Welcome To
2101 Church St
What now stands as 2101 Church Street was once the magnificent Jean Lafitte Hotel, Galveston islands first highrise building. Today, those same pieces of Renaissance Revival can be found throughout the building. The original entry-way tile floor patchwork still welcomes visitors and residents home. The first floor of 2101 Church Street are still adorned with the original, stunning crown molding that once set the Jean Lafitte above the rest. A portion of the original staircase still remains paying homage to the authentic grandeur. The building was placed on the National Register of Historic Places in 1984. Exhaustive measures were taken to ensure the original magnificence of the Jean Lafitte was kept intact, while offering the luxurious lifestyle that tenants crave. Welcome to 2101 Church Street. Historic Architecture. Modern Living.

Unparalleled
LUXURY
Overlooking the Port of Galveston and select beach views, encircled by historical architecture, shopping and fine dining that symbolize the historic district in Galveston.
FIND THE PERFECT HOME
2101 Church St is a new architectural marker for a uniquely glamorous developing neighborhood. The building presents the opportunity to make a home among the cultural landmarks of a legendary part of the city.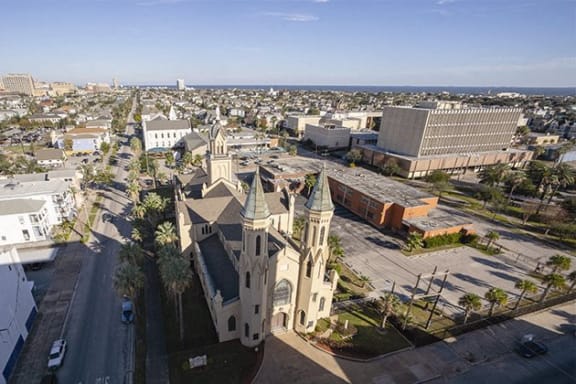 Located in central downtown find several nearby attraction in walking distance; shopping, restaurants, opera and more. 2101 is a Galveston landmark minutes from the strand and in the heart of the historic district.
Private Parking
We're focused on
RESIDENTS WANTS
Spa/Hot Tub
Pool
Courtyard
Carpeting
Efficient Appliances
W/D Hookup